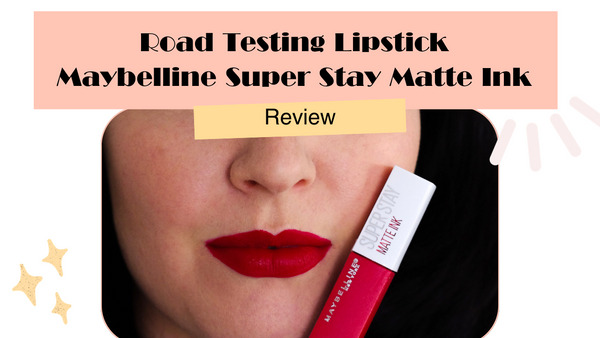 Maybelline Super Stay Matte Ink - Road Testing Long Wear Lipsticks Series
Maybelline Super Stay Matte Ink
Road Testing Long Wear Lipsticks Series 
One essential item for all pinups is red lipstick. There are so many on the market and everyone will tell you their favourite, go to bold red lip. You can go through the adventure of trial and error until you find your perfect shade that provides the optimal wear and comfort for your price range. OR you can learn from my adventures (and fails) in this multi-part Road Testing Long Wear Lipstick Blog Series! I will try out different red lipsticks and rate them accordingly. I aim to offer a range of long wear lipsticks.
Why just long wear lipsticks? We are vintage lovers in the modern world, we sometimes don't have the time and effort to be constantly reapplying our lipstick to keep ourselves primped and preen like our inspiring women of the 1940's and 1950's. We can also take advantage of modern advancements in makeup development and have a red lipstick that will stay on and be transfer proof for hours - or so the packaging states!
Rating Criteria
Here are my 5 criteria - Rated out of 5 (1 =poor, 5 =good):
Application
Transfer (initial and after 1 hour)
Cost and accessibility
Wear throughout the day/ eating and drinking
The next day
Each lipstick will be given a total score out of 25.
Here we go!
I've heard about this lipstick on the pinup grapevine with many ladies that I follow on social media claiming this to be their 'ride or die' red lipstick. So, naturally, when I saw it on sale (yes I always love sales), I had to test it out for this series. 
As I said before, ladies have been saying this liquid lipstick is their 'ride or die' red lipstick. So this was a total impulse purchase for me. It was strategically placed at a front counter at my local Chemist Warehouse and it was 1/2 price. How could I not give this a go?! 
These liquid lipsticks are advertised as 'inks your lips in up to 16-hrs of saturated matte colour and features an arrow applicator for precise application. Superstay Matte Ink features gel ink formula that creates a true matte finish with up to 16 hours lasting comfortable formula, which does not dry lips or crumbles off.'
1. Application
I have personally never come across this 'arrow applicator' before. It is a weird applicator with a hole in the middle - which acts as a reservoir for the liquid colour. It might be because I am used to the good ol' dope foot applicator, but I found this made it have a patchy application. Once applied it feels a little tacky, which doesn't fully dry down for a few hours.
I would say that the 'super stay' of the colour is true, as I cleaned up my lip line and got some on my hand, this wouldn't come off with just soapy water and I had to get the coconut oil out to remove it. 
Rating = 3 out of 5
It might be first time user error, but I wasn't a fan of the applicator creating a patchy appearance and the tacky feeling on my lips.
 2. Transfer
Although the product does feel tacky for some hours after application, there is little to no transfer within the first 10-15 minutes of application. It stays fairly transfer proof even on my white dog (yes, he is now a constant marker for lipstick transfer testing, with the amount of kisses he gets a day). However, at the 5 hour mark, there was definitely noticeable transfer on my coffee cup. 
Rating = 3.5 out of 5
 3. Cost
The recommended retail price of this lipstick is $19.99. Which is average to high for a drug store liquid lipstick these days. Hence, why I did not purchase until it was marked down by 50%. 
Rating = 3 out of 5
4. Wear throughout the day/Eating and drinking
The wear of the lipstick was reasonable. I did notice a couple of little specks of red on my food during lunch. The corners of my mouth started to fuzz but the colour on my lips stayed as pigmented as when I first applied it.
However, they were starting to feel quite dry underneath by the 4 hour stage. 
(By the way, I do apologise for the dodgy photos sometimes. I do these lipstick road tests while I am working and only have time to grab a quick photo)
At about the 6 hour stage, I was wanting to reach for a lip balm, you can see that the 'fleshy' bottom lip has worn off the colour and is starting to show obvious signs of dryness. 
Rating: 3 out of 5 
5. The next day
There is a noticeable 'rawness' of my lips the next day. The formula does have a drying quality with all day wear. 
Rating: 3 out of 5. 

They aren't sooo bad (as in fully cracked and bleeding, because yes I have been there before!). However, because of the staying power of this matte lipstick, I do have to remove it with coconut oil, which does in turn add moisture back to my lips. 

 

Total Score = 15.5 out of 25.

 

Since documenting this road test, I have worn this lipstick a handful more times with a red lip liner from Savvy. I have found this has improved the bleeding and 'fuzzies' in the corner. However, I have had to incorporate lip exfoliation into my night time routine as I have noticed a significant increase in the dryness of my lips in the days following wearing this lipstick. But is the colour and 'super stay' power worth it? Yes. I may experiment with moisturising lip balms and top coats to see if I can prevent my lips from drying out so much during wear. 

 

Keen for more? Check out these candidates for the 'Road Testing Long Wear Lipstick' series: 

 

Like your regular creme lipsticks? Check out Makeup Artist's Jo Ward's Ride or Die Red Lipsticks.

 

xoxo

 *Price current as per 2019. 

 

This post includes affiliate links

 

Transform Yourself Into Pinup Perfection with the Sunshine Coast Pinup School

 

Subscribe for more pinup and retro hair tutorials over on YouTube.

Sign up to be part of the Pinup Girl Gang email newsletter

Get my Beginners Guide to Pinup e-book:

Read more at the Pinup School Blog

Want to learn how to do your own pinup and vintage inspired hair and makeup? Check out the Online Courses on offer.

'